Brand: Bulova
Model: Lunar Pilot
Reference: 96B251
Date: 2022
Movement: High Performance Quartz
Calibre: Miyota
Jewels: N/A
Power Reserve: N/A
Case Material: Stainless Steel
Case Diameter: 45mm
Case Thickness: 14mm
Lug to Lug; 52.5mm
Lug Width: 20mm
Crystal: Sapphire
Weight: 100 grams
Water Resistance: 50m
Bracelet Material: Leather, black
Functions: Chronograph, date, hour, minute, second
Original Box & Paper: Yes
Bulova's new special edition Lunar Pilot Chronograph replicates the original timepiece, updated with our exclusive high performance quartz movement with a 262kHz vibrational frequency for unparalleled accuracy, to continue a history of precision timing. Other features include super-luminous hands and markers, tachymeter, and calendar in a 316L stainless steel case, and water resistance to 50 meters. There's also a choice of bracelets: a stainless-steel version, or a set with two interchangeable straps—a black nylon with nubuck leather patch and a textured black leather.
Work Required
None
The famous Omega Speedmaster's story has been told and retold, but a lesser-known chronograph made by Bulova that also went to the Moon on a NASA mission offers a unique link to that iconic adventure. The Lunar Pilot is the modern version of that watch, and it offers a genuine "Moonwatch" experience for just a few hundred bucks.
How Bulova's Chronograph Went to the Moon
Unlike the case with Speedmasters, you won't really find vintage variations of the Bulova Lunar Pilot very easily. That's because it was produced only as a prototype and was all but unknown until relatively recently — and much about its story remains murky and contested. What we do know is that the original surfaced in 2015 for auction by the astronaut who wore it himself.
Astronaut Dave Scott on the Moon.
Dave Scott was among three crew members aboard Apollo 15 in 1971 — just two years after the first and most famous lunar mission of 1969. Following a second round of NASA trials for watch candidates, the Speedmaster was selected again and issued to all astronauts. The crew was allowed to bring some personal effects, however, and it's well established that Scott wore his Bulova-provided backup watch on the Moon after the crystal popped off his issued Speedmaster.
When Scott put his Bulova up for auction, it created a lot of excitement in part because it was the only known privately owned watch that had been on the Moon. The actual Omega Speedmasters astronauts wore were issued by NASA and so are considered government property. Scott's Bulova was auctioned for a final price of no less than $1,625,000 in 2015, and Bulova released its modern remake the same year, naming it the Lunar Pilot.
It's likely no coincidence that the dials and bezels of the Speedmaster and Bulova Lunar Pilot look similar. Each watch company competed for the honor and marketing value of making the Moonwatch to NASA's requirements and specifications. Omega's successful 1969 design even beat the now luxurious Rolex Daytona and no doubt influenced Bulova as well. Not only its story, but also its looks make the Lunar Pilot a solid affordable alternative to the Omega Speedmaster.
The newest version of the Bulova Lunar Pilot has been downsized from 45mm to 43.5mm, the exact size of the original.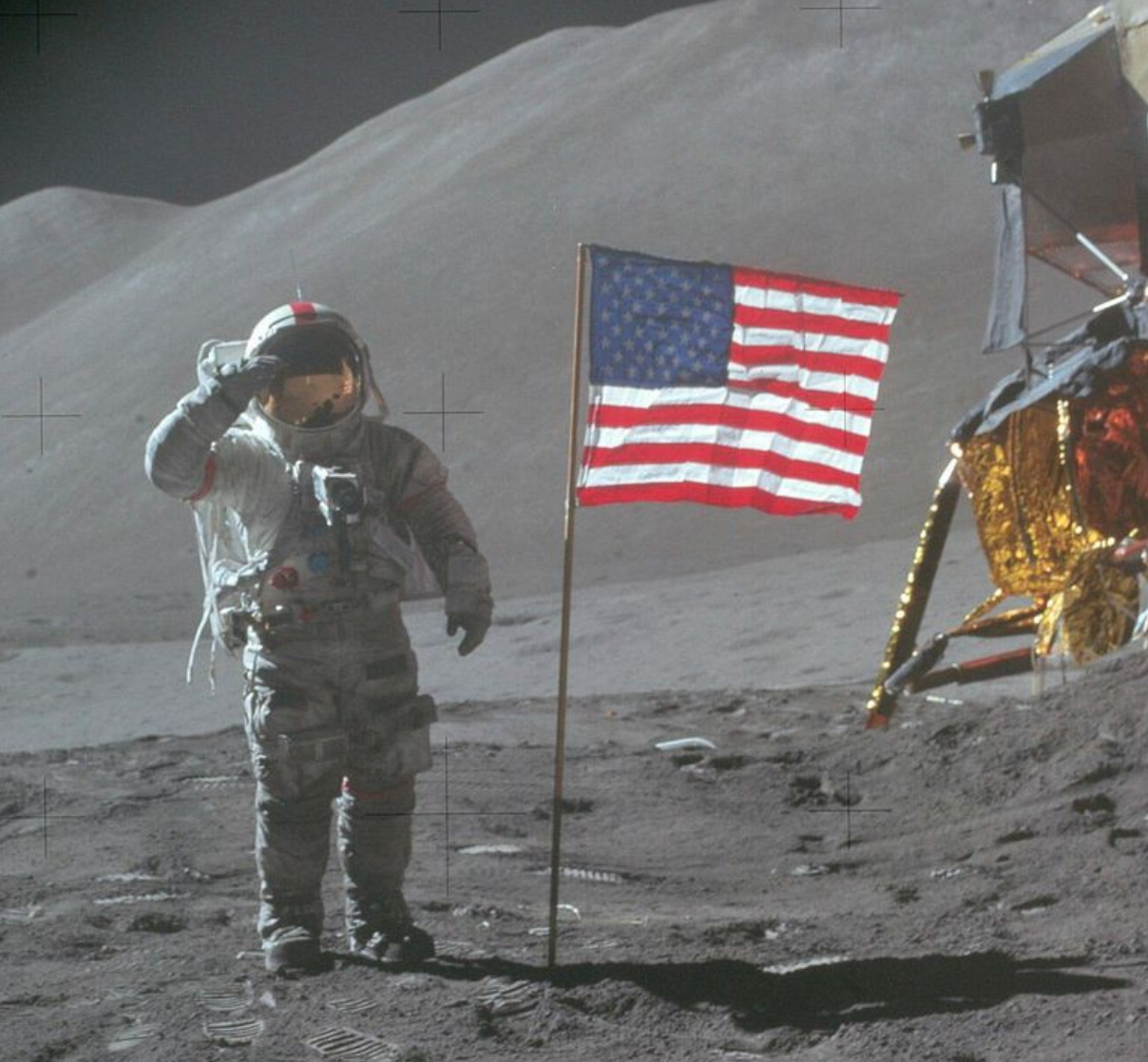 The Modern Bulova Lunar Pilot
While the original Bulova watch would have had a mechanical movement like the Valjoux 72 inside, the brand's modern version is equipped with a quartz movement that could be considered a descendant of Bulova's Accutron technology. The brand's High-Performance Quartz even outdoes the famous reliability and precision of standard quartz — which itself beats mechanical watch movements by miles. However cool and fun mechanical watches are, a superior movement operating at 262Hz, as Bulova's does, seems practical and appropriate for a watch as technical in nature as space-bound equipment should be.
The Bulova watch that's now recreated as the Lunar Pilot wasn't selected by NASA for use, but it's still a watch that was actually made for NASA's requirements — and one that did find its way onto the Moon and into pictures of a spacesuited astronaut in action. Bulova played a notable role in NASA projects in other ways, too. According to the brand, its Accutron technology was used in 46 missions from the mid-1950s to the 1970s "in all instrument panel clocks and timekeeping mechanisms."
You just can't beat the allure of a watch made for actual space missions, and there are but a handful of such watches in existence. For a few hundred bucks, the modern Lunar Pilot must be one of the most compelling modern homage watches available today.